Thanks to Gabrielle moving north rather quickly, the wind went offshore sooner than expected which was both good and bad. Good was the fact that many of us were pleasantly surprised when we went to WB yesterday morning and the surf was really clean. Bad was the fact that the wind went offshore Saturday night so the swell didn't last long.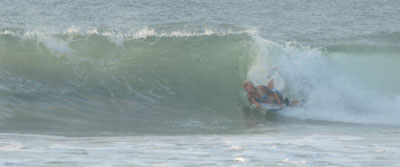 I got up before the sun Sunday morning, pulled up the Crystal Pier cam,and saw what looked like some fun surf so I put on a pot of coffee. I didn't go out until I saw someone, who turned out to be Tico, paddling out. I raced down to the beach and went up to the pier and saw a bunch of people out with long period groundswell coming in. Devon, a welcome sight, came walking down and asked me if I was going out. I replied,"it's clean so I might as well."
I paddled out near the pier and there was Tico. He always brightens my day with his good energy and great hugs! Then there was Steve, our resident "Negative Nancy". All he does is bitch and complain about everything from what I'm riding to people sitting inside and ruining HIS waves. Luckily none of us got caught up in it. Devon wondered aloud, why he even surfs. I wondered the same thing. Finally he went in. I guess he had had enough of himself.
Then a couple of wanna be pro shortboarders paddled out and infiltrated our line up but still didn't quite ruin it except maybe for Devon. They didn't seem to like her longboarding and being able to catch the waves a little farther out. hahahah! I told her we would read about her on the WBLive forum. Regardless, she was dropping into some bombs and making them. The boys were probably just jealous.
It was a great day even though I did have to leave and go to work. The waves were about 3-5ft. with some bigger ones coming through and it was an easy paddle out since it was such a long period swell. The vibe was so good and everyone just kept smiling which made for a perfect day!
(ed note: this pic is of Ocean- but not from Gabrielle- this was taken 8.24.07)