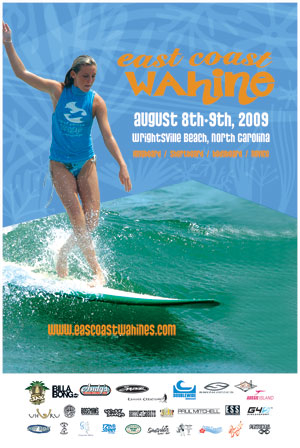 13th Annual East Coast Wahine
August 8-9,
Wrightsville Beach, NC
CONTEST OVER! Great job wahines!! Thanks to all our wonderful sponsors, volunteers, and staff that made it all happen.
Here are the official results! Congrats to Leilani Pickett, Open Longboard Champion (fyi- that's Leilani on this year's event poster!)
The coverage just keeps coming, here's an article from
Check out these awesome photos!!!
New photos posted today (8.13) by Mark Bruce
Day one photos by Chris @ Local Sessions
Day two photos by Chris@Local Sessions
ECWC Photos By John Sutton
Star-News Saturday photos
Star-News Sunday photos
Star-News article about the east coast wahines event.