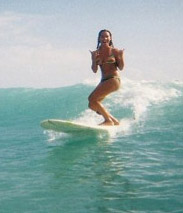 Aloha! My name is Sheena and I'm writing this blog from the island of Oahu in beautiful Hawaii. I guess I should make this a little introduction so everyone reading this can get to know me. I am originally from northeast North Carolina (near the Outer Banks) and went to college at UNC Wilmington. I got married after my sophomore year and then moved out here to Hawaii with my husband, Austin, who is in the Coast Guard. We have been out here for about two years now and we love it.
I started surfing when I was 14-years-old in the Outer Banks, but didn't really paddle out regularly until I was 16. I definitely had a hard time learning both because I lived about 45 minutes from the ocean, and because I am the only person in my family (and of my friends at the time) who surfed. Once I moved to Wilmington when I was 17, I became a member of the UNCW surf club and started spending alot more time in the water. I have surfed in three ECWC contests, although I probably did a better job of making my competition look good than ever looking good myself!
Coming out to Hawaii has definitely helped my surfing by making me more confident in bigger waves. We logged over 220 days in the water during our first year here. One of the coolest things about living here is the huge variety of waves available. From the little peelers of Waikiki to the mountain known as Waimea, there is a great wave for every style of surfing. My favorite breaks on the island are Makaha because of it's loooooong walls and a little spot called Rest Camp that's like Waikiki without the crowds. Both these spots are on the west side of Oahu.
Overall, living in Hawaii is everything I had imagined and more. It definitely has a darker side whick I will get into later, but it is a paradise by every meaning of the word. I havent spent as much time in the water during the last six months as I would like to, because I was pregnant and now I have a beautiful two month old baby boy, but this is my kick in the butt to get back out in the water more and relay all I'm seeing and doing to all of you.
If there is anything specific any of you would like to know about Hawaii or about me, feel free to ask away! Until next time, aloha and mahalo (thankyou) for reading my blog!