FOR IMMEDIATE RELEASE
ASSOCIATION OF SURFING PROFESSIONALS (ASP) INTERNATIONAL
Rip Curl Pro at Bells Beach presented by Snickers
Stop No 2. of 7 on the ASP Women's World Tour
Bells Beach, Victoria, Australia
April 3 – 13, 2007
GILMORE RINGS THE BELL AND MOVES TO EQUAL FIRST ON ASP RATINGS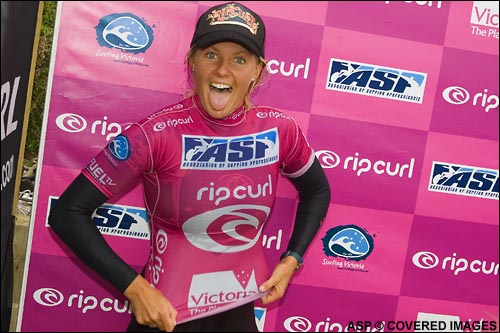 BELLS BEACH, Australia (Friday, Apr. 6, 2007) – ASP Women's World Tour Rookie Stephanie Gilmore (AUS) is on top of the world after winning the Rip Curl Women's Pro and her first victory as an elite tour surfer at Bells Beach today.
Gilmore's trouncing of defending Rip Curl Pro and 2004 World Champion Sofia Mulanovich (PER) in the Final has catapulted her to equal World No. 1 for the first time in her career. She shares the rating with 2005 World Champion Chelsea Hedges (AUS).
"I'm just over the moon, this is unbelievable,� Gilmore said. "To compete against Sofia, a defending champ, in the final and manage to win means I'm back on track. To be World No. 1 next to Chels is amazing and exactly where I want to be.�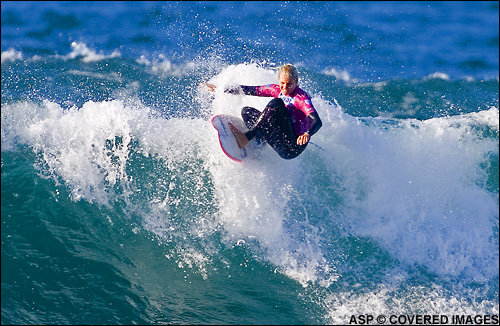 Gilmore, who won two ASP Women's World Tour events as a wildcard before qualifying for the 2007 elite tour, has been vocal about her aspirations to earn a world title her first year on tour. She was disappointed to start that campaign with an equal 5th finish after being eliminated by Hedges in the Quarterfinals on the Gold Coast of Australia last month. Her Quarterfinal win over Hedges today puts the surfers at two wins apiece in elite tour competition.
"I was feeling pretty confident that once I had knocked off Chelsea I thought I could probably take it to the top,� Gilmore said. "She's in great form, as are all the girls, but Chelsea was the biggest hurdle and I knew that if I could get over that then I could take this through to the final.�

Gilmore trailed Mulanovich for the first half of the Final, but left the Peruvian needing a perfect 10.00 after posting the highest wave score of the entire event, a 9.33, with six minutes to go.
"It is always great to build up momentum going into the final, Gilmore said. "It's kind of hard because you want to go hard every heat, but in cold conditions you want to leave some energy and give 100 percent in the final. That was my game plan and it all worked.�
Mulanovich, who 'rang the Bell' when the women's event was last held at Bells Beach in 2005, moved from equal 17th to World No. 3 with the Rip Curl Pro runner-up finish.
"Steph is such a great surfer and before my heat I was super nervous,� Mulanovich said. "She's so amazing, just to watch her surf and see her score. I'm just stoked to make it to the final with her.�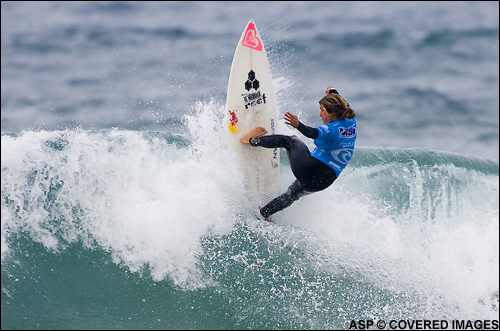 Mulanovich's final berth today was her first since 2005 when she won an ASP Women's World Tour event in England. She was not a factor in last year's world title race but is looking to be back in the mix in 2007.
"I was just happy making it heat by heat because I came dead last on the Gold Coast so to make the final was a great improvement,� Mulanovich said. "My Gold Coast result was a throw away but I can still be in the running for the title. I just have to work on a few things and my nervousness. I'm a nervous wreck. I just need to work on that and have fun.�
Mulanovich beat reigning world champion and three-time Rip Curl Pro at Bells Beach winner Layne Beachley (AUS) in the semifinals.
"I'm disappointed because I let a wave go and Sofia got a 5.90 under my priority with 18 minutes to go,� Beachley said. "I thought I could afford to wait and it just didn't pay off – I played too much of the patience game. I started strong, I just wasn't able to capitalize from the start.�
Beachley won her seventh world title last year and has cited upcoming talent such as Gilmore as a major motivation for staying on tour.
"It's not a bad result,� Beachley said. "I was hoping to at least make the final. I really wanted to pay back Steph for beating me at my own event. I would love to get her at her sponsor's event. Even still, it's great that Rip Curl has brought us back here and hopefully I will be on tour long enough to win another Bell.�
Samantha Cornish (AUS) also made a semifinal showing today but was easily eliminated by Gilmore in their wave-starved heat.
"Yeah it was definitely slow out there,� Cornish said. "I was finding it hard to catch a wave for the first 15 minutes. Stephanie only had a 6.0 which was unfortunate because I could have had a chance – I just made several mistakes out there. You live and learn. It's a loss but it's a good result for me and I'm happy with that.�
The women will not surf another ASP Women's World Tour event until August when they will head to Brazil.
Rip Curl Women's Pro Final Results:
HEAT 1: Stephanie Gilmore (AUS) 16.50 def. Sofia Mulanovich (PER) 11.93
Rip Curl Women's Pro Semifinal Results: 1st advances to Final, 2nd finishes equal 3rd
HEAT 1: Stephanie Gilmore (AUS) 15.17 def. Samantha Cornish (AUS) 5.94
HEAT 2: Sofia Mulanovich (PER) 11.50 def. Layne Beachley (AUS) 8.56
Rip Curl Women's Pro Quarterfinal Results: 1st advances to Semifinal, 2nd finishes equal 5th
HEAT 1: Samantha Cornish (AUS) 12.00 def. Jacqueline Silva (BRA) 7.16
HEAT 2: Stephanie Gilmore (AUS) 14.50 def. Chelsea Hedges (AUS) 12.17
HEAT 3: Layne Beachley (AUS) 13.00 def. Amee Donohoe (AUS) 12.67
HEAT 4: Sofia Mulanovich (PER) 12.50 def. Melanie Redman-Carr (AUS) 9.00
ASP Women's World Tour Ratings after the Rip Curl Women's Pro, Stop 2 of 7 on the ASP Women's World Tour
1. Chelsea Hedges (AUS) 1752 points
1. Stephanie Gilmore (AUS) 1752 points
3. Sofia Mulanovich (PER) 1152 points
4. Layne Beachley (AUS) 1116 points
4. Rebecca Woods (AUS) 1116 points
4. Silvana Lima (BRA) 1116 points
4. Samantha Cornish (AUS) 1116 points
8. Melanie Redman-Carr (AUS) 1104 points
8. Amee Donohoe (AUS) 1104 points
10. Megan Abubo (HAW) 912 points
10. Jacqueline Silva (BRA) 912 points
12. Jessi Miley-Dyer (AUS) 720 points
12. Claire Bevilacqua (AUS) 720 points
12. Melanie Bartels (HAW) 720 points
12. Caroline Sarran (FRA) 720 points
17. Rosanne Hodge (ZAF) 360 points