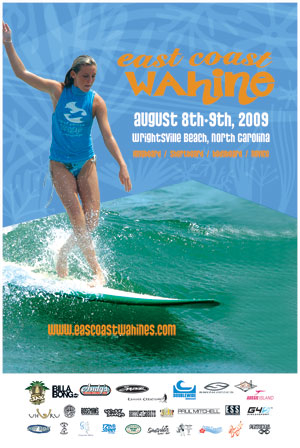 The 13th Annual East Coast Wahine Championships will be held August 8th and 9th in Wrightsville Beach, North Carolina.
Divisions include amatuer competition in Shortboard, Longboard, and Bodyboard. Novice for surfer girls that have never been in a contest before- any size board is welcome. And our ever popular Guppy divisions-for our surfer girls ages 10 and under.
Event posters are ready and you can download one today! Please help us out by posting one in your local surf shop.
Entry forms will be on-line soon.
Thanks to all our sponsors- we appreciate your continued support!
Check out the contest page for more information coming soon!