I want to tell you about Lisa Andree and why I'll be thinking of her this week. Recently diagnosed with a non-malignant brain tumor, Lisa will undergo surgery on July 3rd at Duke University Medical Center.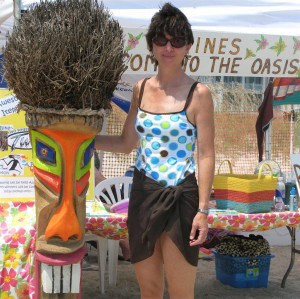 Last year I had the joy of welcoming Lisa to the East Coast Wahine team. Lisa jumped in on our planning efforts for the 2007 East Coast Wahine Championships with gusto. She masterminded the Wahine Oasis tent. She found sponsors and was able to provide our competitors with lunch, fresh fruit, cold drinks, a massage therapist, and samples of sunscreen, Paul Mitchell hair care, and other goodies that were so kindly donated. Lisa also was a huge help with our annual surfboard raffle, which thanks to her also included a beach cruiser, hammock, and a pink flamingo. Lisa was willing to run errands all over town and still managed to work the event all weekend long.
Lisa has kept my spirits high in 2008 as I tried to step down as event director, yet found no one to take my place. She has helped me plan and organize and just stay sane as the event draws near. I was upset to hear the news of her brain tumor diagnosis just a few weeks ago. Lisa's spirits are high and she is going into this with a very positive attitude. I hope you will all join me with sending thoughts, prayers, and healing energy to Lisa this week. She has a loving husband and two wonderful sons and a great community of friends to see her through, but I like to think our wahine community that is spread so far and wide could also help with just a little warm thought here and there.
(left to right: ECWC 2007 Team, Erin Whittle, Anne Weber, Lisa Andree)
Thanks wahines- I'll keep you posted on Lisa's recovery!