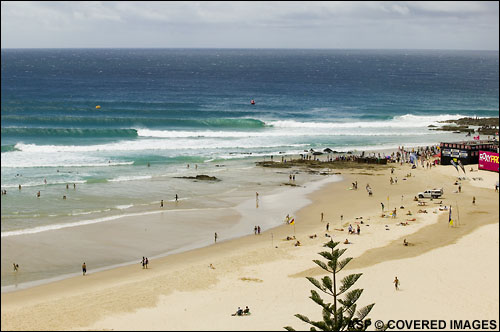 It's that time again! Trading has opened for both the men's and women's Fantasy Surfer. The grand prize is another boat trip for 2 and prizes will be given for the high score of each event so pick your team's now! It's fun and it's free. Pick your 8 guys with your 50 million dollar salary cap and your 5 women with your 30 million dollar salary cap.
The first event is the Quicksilver Pro Gold Coast which is held at Snapper Rocks, a high performance right point break. The waiting period begins February 23 and ends March 5 and from what I've read Snapper was getting good again. However, with the recent storms, it seems the bank may have been washed away again so the contest may not be held at Snapper after all. I guess the Quick crew will have to do some scouting at other nearby breaks.Mick Fanning will be on hand to defend his title. Look for Joel Parkinson, Dean Morrison, and Bede Durbidge to give him a run for his money. The tour is going to be a little strange with several of the old guard having retired last season and a few of them failed to requalify so now they are back on the WQS Grovelfest. It will be interesting to see what the new young guns do. Will Jordy Smith wow us with his futuristic moves? Will Dane decide he really wants to compete and be patient enough to make two full turns for the points and then bust out some crazy moves? And then there's Benny B. back on the tour. I'm anxious to see what he does. As usual, I'm pulling for my man Kelly Slater to grab number 9!
I'll post my picks later, I'm still doing some research. Now let's talk a bit about the women at Snapper. My number one pick this year is Stephanie Gilmore again. Whether she secures another world title this season remains to be seen, however, I'll be carrying her on my surf dogs team all season. I'm also picking up Aimee Donahoe. She and Steph. both have that smooth flowing style that Parko has. I just love it! I'll also hang on to the spit fire Sam Cornish. She's a hard charger. I'm not sure about Layne yet. I hope she has a better season and I know she'll be on one of my teams. She is still one of my favorites. She has done so much for the sport, I can't help but have a soft spot for her and she is a powerful surfer. I just hope the young up and comers haven't gotten the best of her. All in all, I think Layne will pull out some wins this season. She is probably sick of not being on the podium so I expect her to come out firing. As for Karina, I am going to wait and see what she does in the first contest before saying too much about her. I'll miss Bevo and Chelsea and hope they come back for 2009. At least Bevo is the first alternate so we'll probably see her in an event or two. Oh and Jessi, look for her to do big things this season. She's another one I'll probably pick up.
Good luck everyone!