BILLABONG PRO MAUI HOSTS ROCHELLE BALLARD'S FINAL EVENT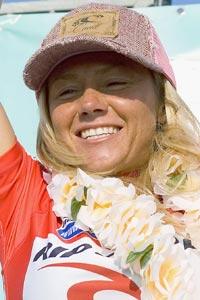 HONOLUA BAY, Maui (Friday, Dec. 7, 2007) – Legendary ASP tour veteran Rochelle Ballard (HAW) will cap off her esteemed and ground-breaking career at the Billabong Pro Maui presented by Hawaiian Airlines from Dec. 8 – 20, 2007.
Ballard has officially announced her retirement following the completion of the 2007 ASP Women's World Tour, and is pleased that her career will culminate at home in Hawaii.
"Honolua Bay is a very special place," Ballard said.  "It is an amazing wave and one of my favorite events on tour.  I am so happy to be at home finishing off my last event as a touring pro.    I have enjoyed many amazing experiences over the years and have seen so much change and grow on tour.  To finish it at a barreling righthand pointbreak is a win win experience no matter what the result."
The Hawaiian's storied journey throughout the ranks of the ASP World Tour has seen her rise as high as No. 2 in the world in 2004, as well as collect a number of victories including the Gunston 500, the Billabong Pro at Burleigh Heads, the U.S. Open, among others.  However, despite the countless accolades she has acquired, Ballard will most miss her companions on tour.
"Traveling with my best mates on tour especially my best friend Megan (Abubo) is what I'll miss most after this season," Ballard said.    "We have always amped each other up so much.  Also, visiting old friends in the countries we go to and eating at my favorite cafe's around the world…and all the sick parties on tour weren't so bad either."
Although Ballard is looking forward to a bit of a respite after over a decade of competing against the world's best, she shows no signs of slowing down.  Look for the powerful natural-footer to continue pushing the limits of high-performance surfing as she watches the next wave of professional surfers take on the ASP Women's World Tour.
"I think it's amazing what the younger girls are doing, and I am so excited to enjoy watching them," Ballard said.  "I look forward to continuing to be a part of their careers.  I'm a kid at heart and always will be."
Ballard will join the rest of the girls on the ASP Top 17 in Maui, including ASP World Title contenders Stephanie Gilmore (AUS), Sofia Mulanovich (PER) and Silvana Lima (BRA).
The Billabong Pro Maui pres. By Hawaiian Airlines will begin its waiting period on Dec. 8, 2007 and have until Dec. 20, 2007 to complete the event.  Only two full days of competition are required to complete the event, and event organizers will look to run in the best conditions possible.
All Billabong Pro Maui action will be webcast LIVE via http://www.triplecrownofsurfing.com and http://www.aspworldtour.com