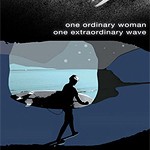 I was really stoked when I received my Mavericks email about "One Winter Story", the movie about Sarah Gerhardt. I immediately wrote Anne and asked her if we could get the movie for our upcoming Wahine contest. Next thing I know, I'm getting an email from Anne asking if I would interview Elizabeth Pepin and Sally Lundburg for the Wahine site. The interview never happened, however, we did get to hang out and get to know each other a little bit. That's coming up in another story about our "Impromptu Figure 8 Wahine Day."
Back to the tale at hand, when I saw  the post about "One Winter Story" coming to Wilmington as part of the Scene First Student Film Festival, I was extra stoked! However, I would soon be disappointed by the lack of support for the movie from the local surfing community. Leigh and I went downtown early to get good seats and to catch the band, Labeling Delores. Our seats consisted of concrete courthouse steps. What made them good was the fact that they didn't have an obstructed view because we were at the top and in the center with a perfect view of the screen. We ran into Erin who was taking photos of the student filmakers and other people in attendance. Leigh, Erin, and I were pretty much the only people there from the surfing community. The turnout itself wasn't too bad though. I guess the movie didn't get enough press in the Wilmington surfing world.
It was one of the best surf movies I have seen because it wasn't just a surf movie, it was a movie about a courageous woman who overcame some hardships in life and went on to challenge herself by surfing massive waves and getting her Ph.D. in physical chemistry.
I know, I'm a couple of months late in posting this. I'm trying to play catch up while in the middle of painting our new place, traveling, and working. There is so much to write about, just too little time right now and it doesn't help that my mind is a scattered mess.