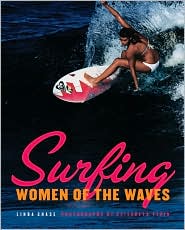 A few weeks ago Paula Bushardt sent me an email regarding photos of east coast surfers in a new book by Linda Chase, called Surfing, Women of the Waves. I finally followed through and ordered a copy to add to my ever growing surf library. It's funny how sometimes I cannot put two and two together. I remember photographer/filmaker Elizabeth Pepin traveling to Wilmington – she and Sally Lundberg were showing their award winning documentary One Winter Story at the Scene First Student Film Festival. Elizabeth and Sally took some time off their hectic schedule to meet with a group of East Coast Wahines at Paula's house on Figure 8 Island. Well these photos transpired into an entire chapter of Linda's book!
When I opened the book, it's coincidental how I just happened to turn to page 94 to see my name highlighted in red with a quote, talk of the East Coast Wahine Championships, and another quote from this very website. A little light bulb went off in my head and I recalled receiving an email from Linda many many months ago- she didn't give me a lot of details, only to say she liked what was written about our contest and could I give her a quote about women's surfing. That said, there are some great photos from that weekend (we used to have them linked up through our site, but I just checked and the link is no longer active) and talk of east coast surfers like Lisa Andersen, Mimi Munro, Frieda Zamba, Connie Arias, Christa Alves, Karina Petroni, and Jo Pickett.
I have only skimmed the rest of the book so I can't offer a full fledged review, but I will post the synopsis from the publisher, Gibbs Smith.
"Surfing is art on waves, a form of self-expression." —Lisa Andersen, four-time women's world champion
As the official counterculture sport of the 1960s, surfing was not just a sport but a lifestyle, one long, sun-drenched beach party with endless waves and music, as well as an unapologetically masculine culture. This notion has since been disproved by generations of amazing female surfers who have made an indelible mark on the sport. Surfing: Women of the Waves highlights some of these extraordinary women of surfing, from Linda Benson and Joyce Hoffman in the 1950s and 1960s to Layne Beachley, Sofia Mulanovich, Bethany Hamilton, and the great Lisa Andersen, four-time women's world champion. Today, women of all ages and skill levels have taken their place among the waves—longboarders, shortboarders, goofyfooters, hotdoggers, young girls, and surfer moms—these are the women of the waves!
Women featured include: Bethany Hamilton, Jessi Miley Dyer, Melanie Redman-Carr and Layne Beachley: Australia Sofia Mulanovich, Punta Hermosa, Peru (small town outside of Lima); won 2006 U.S. Open Lisa Andersen, Florida Megan Abubo, Hartford, Connecticut Emilia Perry and Alana Mock, Northshore, Hawaii Monyca Byrne-Wickey, Hana, Hawaii Kristen Steiner, Big Island, Hawaii Melanie Bartles, Hawaii Lisa Benson, Encinitas, California Kim Hamrock, Huntington Beach, California Jennie Useldinger, Ashley Lloyd, Jamilah Star, Savannah Shaughnessy, Katherine Carter: Santa Cruz, California
Linda Chase attended Occidental College in Los Angeles, where she obtained a degree in economics. Soon thereafter she pursued a career in publishing that included a stint as researcher, writer, and editor, and later as editorial director and publisher. Linda researched the sport while living in Malibu for five years and subsequently wrote an article in Preferred Way magazine on her surfing experience.
Elizabeth Pepin currently works as a Producer and Associate Producer at KQED-TV in San Francisco. She is one of four women in the country who specialize in shooting female surfers. She also makes independent documentaries outside of KQED and has won four Emmy Awards for her documentary film work. In addition to filmmaking, Elizabeth is also a photographer and author.