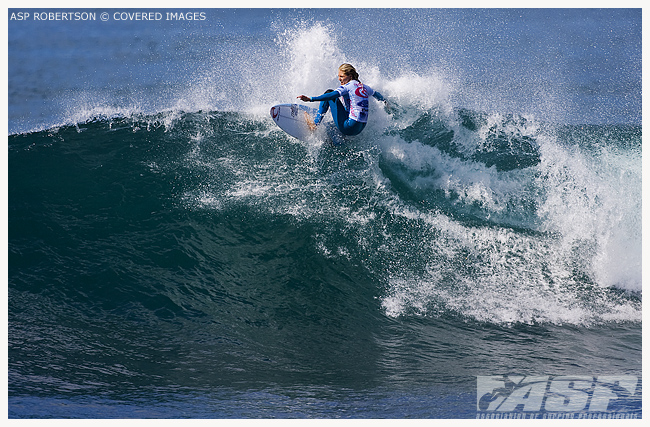 BELLS BEACH, Australia (Monday, Mar. 24, 2008) – Reigning ASP Women's World Champion Stephanie Gilmore (AUS) has defeated 2004 ASP Women's World Champion Sofia Mulanovich (PER) to claim the 2008 Rip Curl Women's Pro presented by Ford Fiesta in classic four-to-six foot (2 metre) surf at Bells Beach today.
Event No. 2 of 8 on the 2008 ASP Women's World Tour, the Rip Curl Women's Pro final was a repeat showdown of last year's event, where Gilmore and Mulanovich squared off for the first time at Bells Beach. Today's victory marks the second consecutive Rip Curl Women's Pro win for Gilmore, who jumps from equal 9th to No. 2 on the ratings.
"I'd like to admit that that is probably the best performance I've ever put on in my career," Gilmore said. "It feels absolutely amazing to ring the bell for a second time in a row. I really tried to brush off the first event and come down to Bells with a fresh head. We've had classic Bells conditions all morning, to be able to showcase your talent out in such good waves with just one other girl is an incredible thing."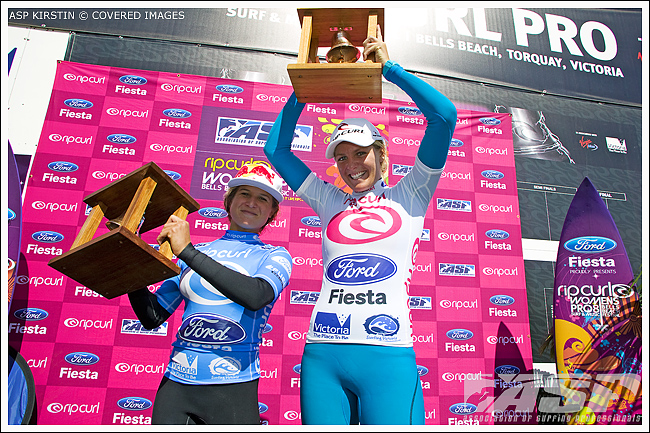 Although Mulanovich held the lead for the majority of the final, Gilmore stroked into a solid Bells righthander with five minutes remaining, stylishly weaving through floaters and top turns to scalp the day's high single-wave score of a 9.33 out of a possible 10. Gilmore took the lead and Mulanovich could not keep the Australian from claiming her second consecutive Rip Curl Women's Pro title.
"I don't know how I did that on that wave," Gilmore said. "Sofia (Mulanovich) had been surfing so well all day and to come back from such big scores, it just feels amazing. I was feeling a bit nervous and I knew I needed a big score. My boards have been feeling good all week, so I just put everything I had into it, and it paid off."
Mulanovich, who took out the season-opener on the Gold Coast of Australia, saw her ratings lead on the 2008 ASP Women's World Tour strengthen today with her impressive Runner-Up finish at the Rip Curl Women's Pro.
"I'm feeling really good, and to lose to Steph (Gilmore) like that isn't a bad thing," Mulanovich said. "She was ripping, and yeah, a first and second to start the year out is what you need to do to win world titles. I'm just happy that I've had a strong start to the season and I'm looking forward to the rest of the year."
Finishing runner-up to Gilmore in last season's Rip Curl Women's Pro as well as the 2007 ASP Women's World Title race, Mulanovich has set herself apart as the No. 1 challenger to Gilmore's current crown.
"Steph and I seem to be making lots of finals together, so it is exciting," Mulanovich said. "She's a really great champion and I think it's good for women's surfing that we can have these kinds of competitive rivalries."
Layne Beachley (AUS), 7X ASP Women's World Champion and 3X past winner of the ASP Women's World Tour event at Bells Beach ('94, '98, '99), looked solid in her Quarterfinal victory over Samantha Cornish (AUS) this morning, but a crucial priority mistake in their Semifinal bout saw the legendary Australian fall to eventual champ Gilmore.
"I'm really pissed off right now," Beachley said. "I had priority on that one set, and then I second-guessed myself and Steph (Gilmore) got it, and that was my undoing. Then I had the wave at the end and I normally thrive under pressure, but for some reason, my foot slipped off and that was it."
Beachley, now rated No. 5 in the world, collects an equal 3rd place finish to join an equal 5th from the season opener of the 2008 ASP Women's World Tour season, and will look ahead to the next event to strength her campaign for an unprecedented eighth ASP Women's World Title.
"Equal 3rd is a good result, but to come so close to a victory when it's been so long, is just really frustrating," Beachley said. "One of these days, I'm going to get these grommets back. I'll definitely head to the next event with lots of confidence and I'll look to make another dent there."
Amee Donohoe (AUS), who posted a sensational last-minute Quarterfinal win over Claire Bevilacqua (AUS) earlier in the day, was unable to find her rhythm against Mulanovich in their Semifinal clash and collects her second equal 3rd place finish of 2008.
"It's good to get another 3rd, but a bit frustrating that I couldn't crack a final," Donohoe said. "Everyone wants to do well here as Bells Beach is such an amphitheatre and we all want to perform. There's always next year though, and I'll just focus on the next event from here out."
The 2008 ASP Women's World Tour will now break until July, when the ASP Top 17 will meet again in Brazil.
While the Rip Curl Women's Pro has completed, the Rip Curl Pro presented by Snickers has yet to finish with the ASP Top 45 gearing up for a showdown of their own at Bells Beach.
Round 3 of the Rip Curl Pro pres. by Snickers commenced at noon. Event officials are aiming to complete as many heats of the round as possible this afternoon. Another release covering the men's portion of proceedings will be distributed this evening.
The Rip Curl Pro pres. by Snickers will be webcast LIVE via www.aspworldtour.com
Rip Curl Women's Pro pres. by Ford Fiesta Final Results:
1 – Stephanie Gilmore (AUS) 16.50
2 – Sofia Mulanovich (PER) 16.17
Rip Curl Women's Pro pres. by Ford Fiesta Semifinals Results:
SF 1: Stephanie Gilmore (AUS) 14.50 def. Layne Beachley (AUS) 10.17
SF 2: Sofia Mulanovich (PER) 13.67 def. Amee Donohoe (AUS) 7.34
Rip Curl Women's Pro pres. by Ford Fiesta Quarterfinals Results:
QF 1: Layne Beachley (AUS) 16.33 def. Samantha Cornish (AUS) 11.00
QF 2: Stephanie Gilmore (AUS) 11.83 def. Megan Abubo (HAW) 8.83
QF 3: Sofia Mulanovich (PER) 16.17 def. Jessi Miley-Dyer (AUS) 12.16
QF 4: Amee Donohoe (AUS) 10.50 def. Claire Bevilacqua (AUS) 10.33
Current 2008 ASP Women's World Tour Rankings After Rip Curl Women's Pro:
1. Sofia Mulanovich (PER) 2172 points
2. Stephanie Gilmore (AUS) 1560 points
3. Samantha Cornish (AUS) 1524 points
4. Amee Donohoe (AUS) 1512 points
5. Layne Beachley (AUS) 1308 points
6. Rebecca Woods (AUS) 912 points
6. Megan Abubo (AUS) 912 points
6. Claire Bevilacqua (AUS) 912 points
9. Jessi Miley-Dyer (AUS) 732 points
9. Julia De La Rosa (PER) 732 points
11. Silvana Lima (BRA) 720 points
11. Rosanne Hodge (ZAF) 720 points
11. Jacqueline Silva (BRA) 720 points
11. Serena Brooke (AUS) 720 points
11. Nicola Atherton (AUS) 720 points
16. Melanie Bartels (HAW) 552 points
17. Melanie Redman-Carr (AUS) 540 points
17. Karina Petroni (USA) 540 points