Chelsea Hedges leaves World Tour for 2008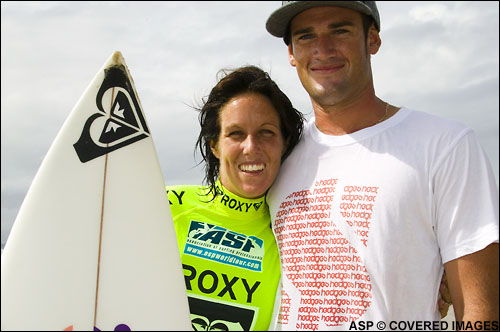 January 9, 2008 : – – Motherhood has claimed another of Australia's top surfers, with former world champion Chelsea Hedges quitting the world championship tour to give birth this year. The 2005 world champion will not tour in 2008 as she and board-shaper husband Jason are expecting their first child in June.
Hedges is the second top rated Australian surfer to quit in the past 12 months, with WA's Melanie Redman-Carr stepping off the tour last October when she revealed she too was expecting. Hedges, 24, is currently enjoying her last surf trip, holidaying on the Caroline Islands with friends including recently crowned 2007 world champion Stephanie Gilmore.
"I'm going to go and surf on a surf mat and have so much fun. I'm over the moon about the baby," Hedges told friends prior to departing. While Hedges will take the entire year off, Redman-Carr has left the door ajar for a possible return in 2008. The former world No.2 has been seeded 13th for the 2008 season, which suggests she has notified tour officials about her intent to compete this year.
Redman-Carr kept her spot on the WCT by finishing fifth on the World Qualifying Series. Hedges, who finished seventh in the 2007 world ratings after winning the opening event on the Gold Coast, could return directly to the WCT next year if she applies for and is granted a wildcard. Despite the loss of proven performer Hedges, Australia is still poised to dominate the women's title race with nine of the 17 ranked surfers all from down under.
Serena Brooke and Nicola Atherton will join the tour this season while WA's Claire Bevilacqua is the first replacement and will compete until Redman-Carr makes her comeback. And 2008 is set to be a watershed year for women's surfing with prizemoney exceeding the $US1 million ($A1.14 million) mark for the first time in history. There will be $US695,000 on offer for eight WCT events and $US415,000 up for grabs at the 17 WQS contests.
World champion Gilmore will delay her season start, withdrawing from next week's WQS event the Roxy Surf Festival at Phillip Island. Gilmore and Hedges have won four of the past six contests held at Phillip Island. While Hedges is out due to her pregnancy, defending two-time champion Gilmore has sponsor commitments following her world title triumph in her rookie season.
Gilmore was disappointed not to be able to chase a three-peat, as the year-opening event is often a precursor for the season ahead. "There's really no better way to kick off your competitive assault for the year," said Gilmore. "Winning this event the last two years really boosted my confidence for the rest of the year and with such an international field it gave me a taste of the fiery competition that lies ahead.
"It's an enormous (WQS) points boost and with some other consistent results, the winner is almost guaranteed a spot on the ASP women's world tour."